What Is Waterproofing
Waterproofing is the process of making an object or structure waterproof or water-resistant so that it remains relatively unaffected by water or resists the ingress of water under specified conditions. Waterproofing is used for building structures (such as basements, decks, and roofing), watercraft, canvas, clothing (footwear, raincoats, tents), electronic devices, and paper packaging (envelopes, boxes). Such items may be used in wet environments or under water to specified depths.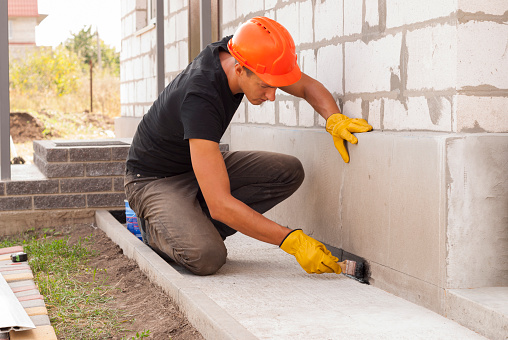 Waterproofing is performed before objects are installed or placed in service and often uses waterproofing membranes made from synthetic materials such as PVC, TPO, EPDM rubber, bitumen-modified polymers, liquid applied membranes, and hot applied sealants. Some types of waterproofing are not intended to resist hydrostatic pressure exerted by water at rest, but only resist absorption of water in the presence of a moving surface film such as wind-driven rain. Many types of coatings also function as waterproofing agents.
Common waterproofing chemicals include silicone, tar, polyurethane, bitumen, and their derivatives. Waterproofing agents may be applied to any surface, including concrete, wood, fabric, metal, or glass. Surface-applied waterproofing agents are typically liquids that are brushed or sprayed onto the surface; some types are self-adhesive sheets. Fluids that penetrate the surface are typically liquids, but may also be gas.
Membranes are usually one of three types: sheets that are bonded to the substrate with adhesive, interlocking pre-formed panels, or fluid-applied membranes that set and harden after application.
Methods of Waterproofing
One common method of waterproofing is to coat the surface with a waterproofing material. This can be done by painting, spraying, troweling, or roller coating. The advantage of this method is that it is less expensive than installing sheet membranes or interlocking panels, and it can be easily repaired if damaged. However, it does not provide as much protection as these other methods, and it may need to be reapplied periodically.
Another common method of waterproofing is to install a sheet membrane or interlocking panel system over the surface. This can be done with either a bonded system, in which the membrane adheres to the surface with an adhesive, or a mechanically fastened system, in which the membrane is held in place with fasteners. Sheet membranes and interlocking panel systems provide more protection than coatings, but they are more expensive to install and repair.
The third method of waterproofing is to apply a fluid-applied membrane to the surface. This type of membrane sets and hardens after it is applied, forming a barrier that resists water penetration. Fluid-applied membranes are more expensive than coatings, but they provide more protection and are easier to repair if damaged.
Waterproofing is an important part of protecting structures from the damaging effects of water. By preventing water from entering a structure, waterproofing can help to extend the life of the structure and prevent costly repairs. When choosing a waterproofing method, it is important to consider the level of protection that is needed, the climate in which the structure will be located, and the budget for the project.
Waterproofing Companies in Melbourne
If you're looking for waterproofing companies in Melbourne, you'll want to make sure you choose one that has a good reputation. There are many companies out there that claim to be the best, but not all of them live up to their claims. Do your research and read reviews before making your decision.
The last thing you want is to choose a company that doesn't do a good job and ends up causing more damage to your home than it fixes. Waterproofing is an important part of keeping your home in good condition, so don't take chances with it. Choose a reputable company that will do the job right the first time.
Once you've found a few companies that you think might be a good fit, call them and ask for quotes. This will give you an idea of how much they'll charge and what services they offer. Make sure to ask about any warranties or guarantees they offer.
When you're ready to choose a company, make sure you get everything in writing. This way, if anything goes wrong, you have something to fall back on.
It's also a good idea to ask around for referrals. If someone you know has had a good experience with a particular company, they'll be able to tell you about it.
When you're ready to hire a waterproofing company, make sure you're clear about what you want to be done. and that you understand the process. They should be able to give you an estimate of how long it will take and what kind of results you can expect.
Don't be afraid to negotiate on price. If a company is trying to charge you more than you think is fair, don't hesitate to ask for a better deal.