7 Questions You Need To Ask A Makeup Artist In Melbourne
Who is a makeup artist?
A makeup artist, also known as an MUA or a cosmetic consultation, is a person who has been professionally trained to enhance one's natural facial beauty. They can provide insight into which beauty products work best for each individual and help them apply the right combinations of colours, skin tones and features to alter one's appearance.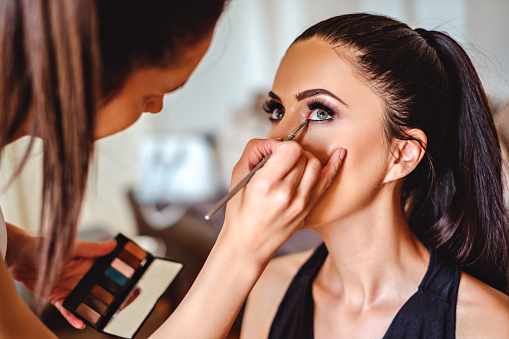 In Australia you will find certified professional makeup artists in every city from Adelaide to Sydney, so finding the perfect fit would be easy because it requires simply doing some research online to find the ones that have been vetted by former clients. Beauty professionals can assist with weddings and special events like bridal parties, proms and photo shoots; however, their primary service is making everyday people look they are most attractive.
1. How Much Do You Cost?
Generally, makeup artists with a solid portfolio will charge anywhere between $150 to $300 per bridal party (this is the best way to look at how much you may have to pay).
2. Where Are Your References?
be sure to ask for references and examples of their work) . Look for reviews on Facebook or Google specifically, not just any random website that appears top in google search results. Also, don't be afraid to ask your friends too!
3. Can I Have A Trial With You? What If I Don't Like It?
Generally, a trial run is done where the makeup artist applies makeup on your skin tone and face structure to ensure it is exactly what you want. If the makeup artist doesn't do this, it may be an indication they are inexperienced or not confident.
4. What Are Your Other Services?
Some makeup artists will offer a wide range of services – hair styling, tanning, even nails and lashes! However, always make sure they have done bridal before as these specialists will usually charge quite a bit more for their time. You don't need any other services apart from your makeup unless it's a first look or photos with no makeup on, in which case there are separate stylists for those jobs.
5. How Long Will It Take To Get Ready On Day?
It's best to find out how long it would take to get ready and if the makeup artist thinks they may need an extra person or two on hand. This is important so feel free to ask and factor in your getting ready photos!
If you have a tight schedule for your entire day, don't be afraid to ask whether they offer different time slots for services – this way you can get more than just one session with them.
6. Do You Have Your Own Business Or Are You Working Out Of Someone Else's Salon?
Find out where their salon is and what days/times they work at that location before you book them, as their working hours will affect how much time you'll be spending together.
For example, A make-up artist who works Monday to Thursday from 9 am – 3 pm is going to have a very different schedule compared to one who only has time during the day on Friday.
7. What's your favourite makeup brand? Why is it your favourite?
Every artist should have a list of preferred brands ready to answer questions from clients. When you ask an artist what their favourite brand is, they need to be able to give you a very good reason as to why it's their favourite. Some artists will say that they love a brand because it has excellent pigmentation, texture and coverage but the truth is, there are so many other factors at play here.
If an artist doesn't share this information with you, perhaps try asking them if they could recommend some products for you by this company or if they do offer services such as bridal makeup or prom makeup; inquiring whether or not they own all the necessary products to complete these looks. If an artist recommends a brand but doesn't own the products, this could be a problem.
For additional readings, check on makeup artist Melbourne.